Hurricane Andrew (1992): "...Grand Jury Report concluded that inadequate building code and inadequate inspections by building officials led to the extreme damage in the area. In 2002, the Florida Building Code was created."
- Huffington Post - 2012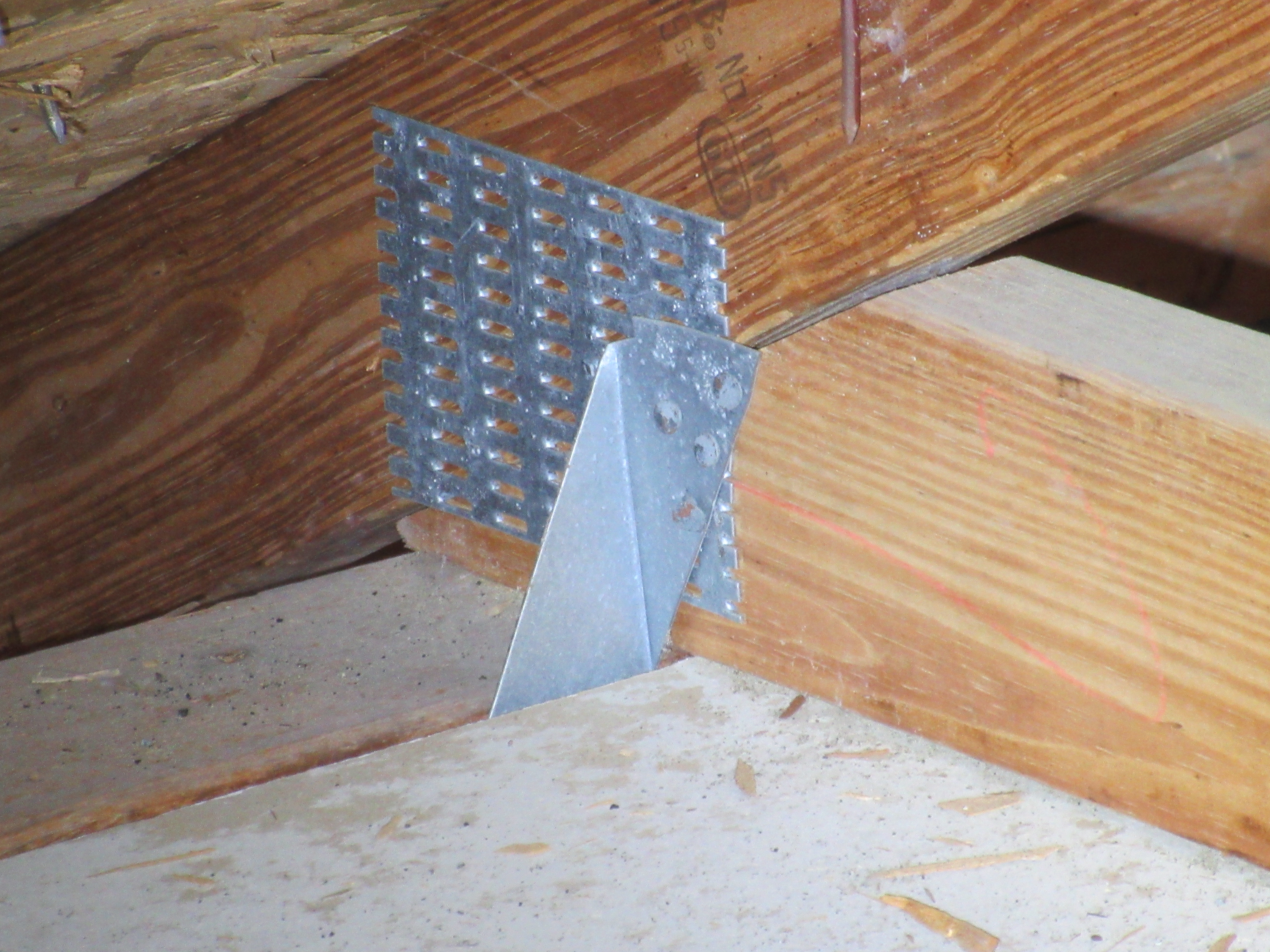 Roof-to-Wall Attachment
Your Blue Bear Tallahassee Home Inspector will navigate the attic to determine the roof to wall attachment methods - if any. In order to qualify for discounts to your home owners insurance there should be fasteners present such as metal clips, single straps, double straps, or other engineered methods of securing the roof truss to the wall.
Your inspector is trained to locate, identify, and report these items.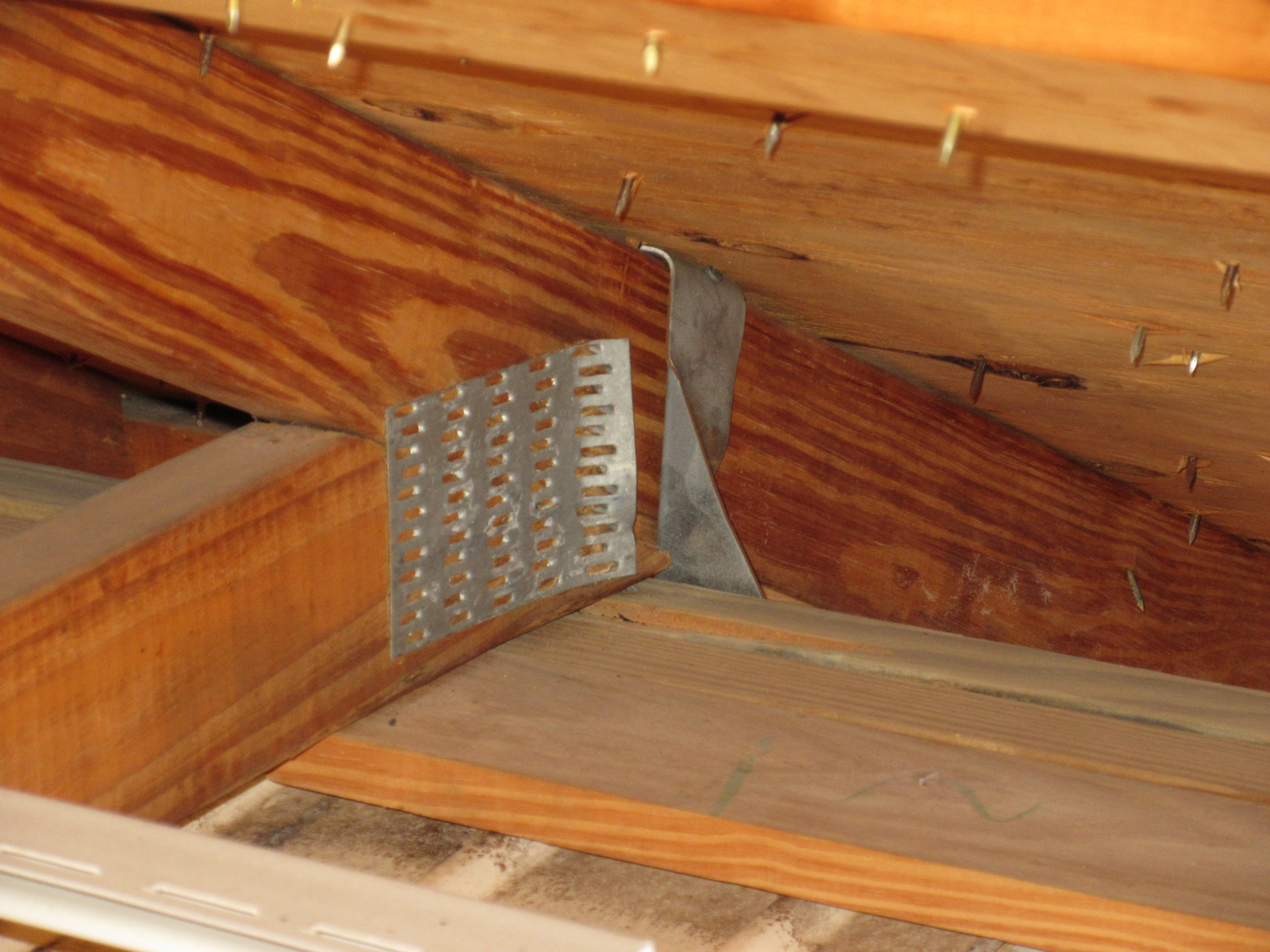 Professional Equipment
Blue Bear Home Inspection utilizes the best equipment in the industry to perform mind mitigation inspections. It is important to everyone involved that data be reported accurately, and with reliable tools. Blue Bear uses the best tools so we can provide the best service to our clients. 
Shown here: Local Blue Bear Tallahassee Home Inspector using one of the best tools in the industry - the Zircon MT-6 - Professional Metal Sensor to identify nail spacing patterns in a homeowners roof decking. If found to be within the acceptable range, this feature may qualify a homeowner for additional discounts. 
"There are basically two ways to protect openings...install window and door products designed and tested to meet impact requirements - or cover the opening"
- International Association of Certified Home Inspectors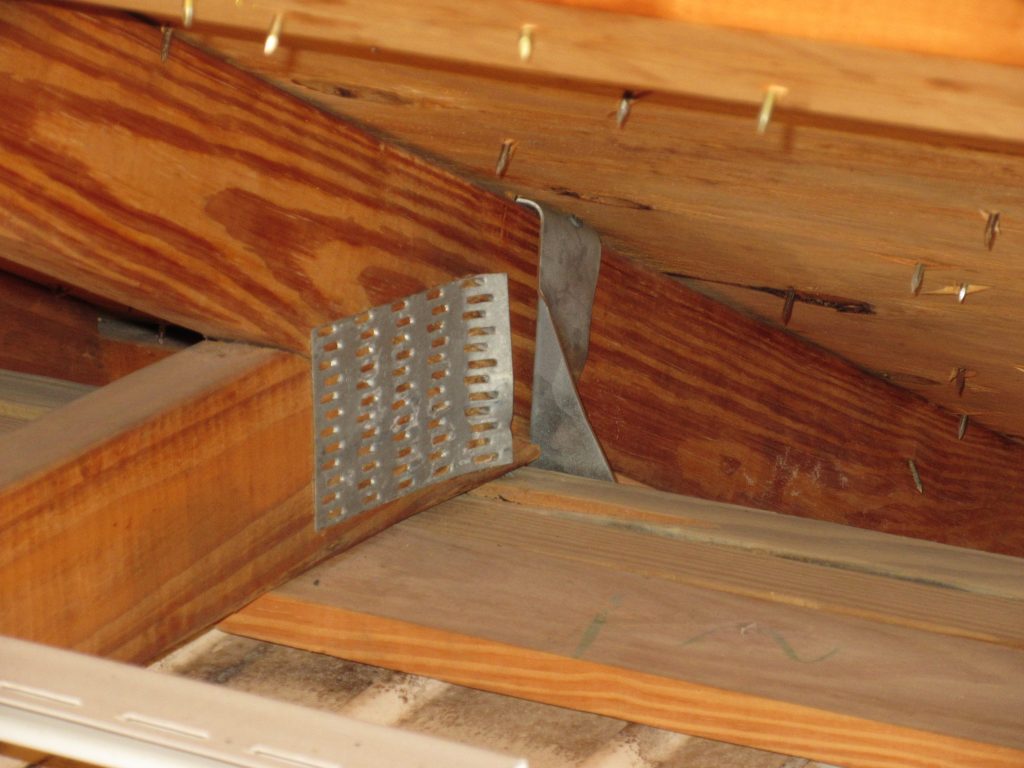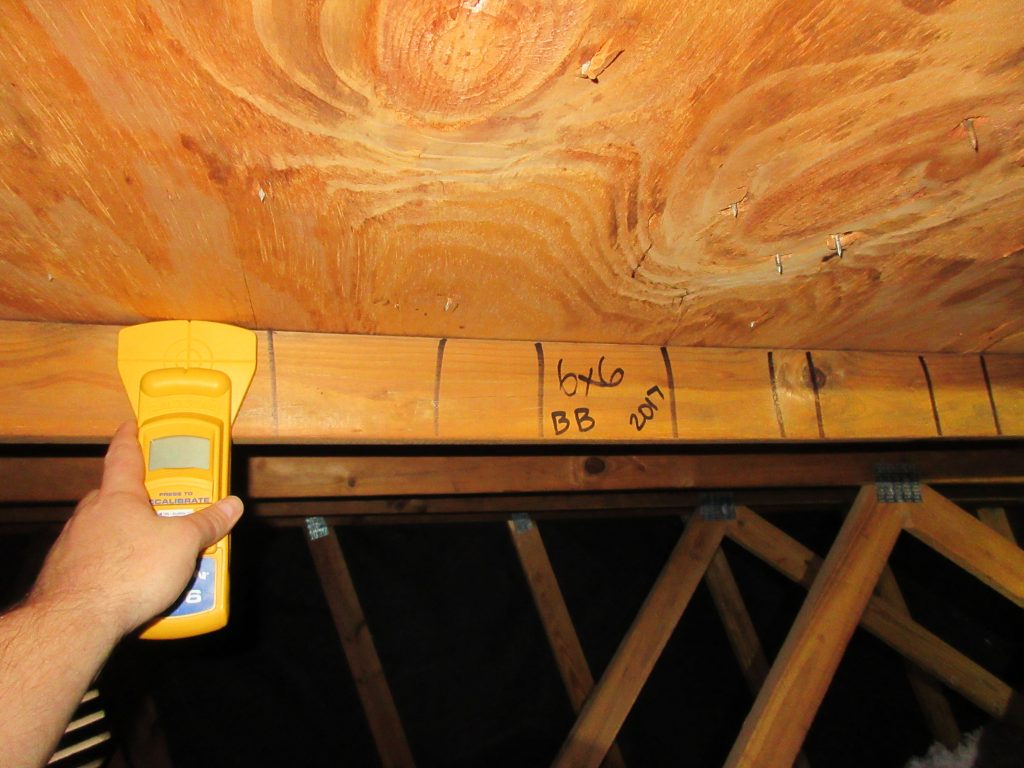 Confidence
Blue Bear Home Inspectors are certified by the International Association of Certified Home Inspectors to perform wind mitigation inspections in the state of Florida.
As licensed and certified home inspectors in Tallahassee, we provide our clients with detailed and timely reports with full color pictures. We have special tools which allow us to reach the most difficult places of your attic. We have performed hundreds of wind mitigation inspections and will get the report completed accurately and on time, the first time.
Relax
When you are buying a new home there are many moving parts to consider. Rest easy knowing that your certified professional Blue Bear Home Inspector has you covered. 
From beginning to end, we will inspect your home, take the necessary pictures, build, and create your personalized report. All you will need to do is sign and send to the insurance agency of your choice. 
Additional Information:
Following Hurricane Andrew, Florida passed a law requiring insurance companies to offer their customers discounts and credits for existing building features and home improvements that reduce damage and loss from wind. In order to qualify for this discount, homes must undergo a certified home wind inspection. However, many Floridians do not know of this law.
Those with windstorm insurance can avoid a costly deductible. Deductibles for homes in hurricane-prone areas can exceed $20,000, meaning that mild to moderate wind damage might not be covered by insurance at all. If proper wind mitigation techniques have been used, these expenses can be avoided altogether.
Wind mitigation helps protect the home from damage. Even if a home is insured, it is always costly when a house is damaged, both for the homeowner and the insurer. Repairs can take months, especially during material shortages that follow massive destruction to entire communities, as was the case after Hurricane Katrina struck Louisiana.
Lenders in Florida require homeowners to carry windstorm insurance in order to be approved for a mortgage. Insurers may not provide windstorm insurance to homes that are vulnerable to wind damage.